2009 Al Johnson
Monday, March 23, 2009
The key phrase during the 2009 Al Johnson Memorial Uphill Downhill Telemark Race was "warm and sunny". Temperatures in the upper forties and clear skies made for good costume weather and once again our friends and participants did not disappoint.
Long Dragon was a hit with the crowd. We enjoyed seeing Jeremy Wallace maneuvering the tail. Great work team!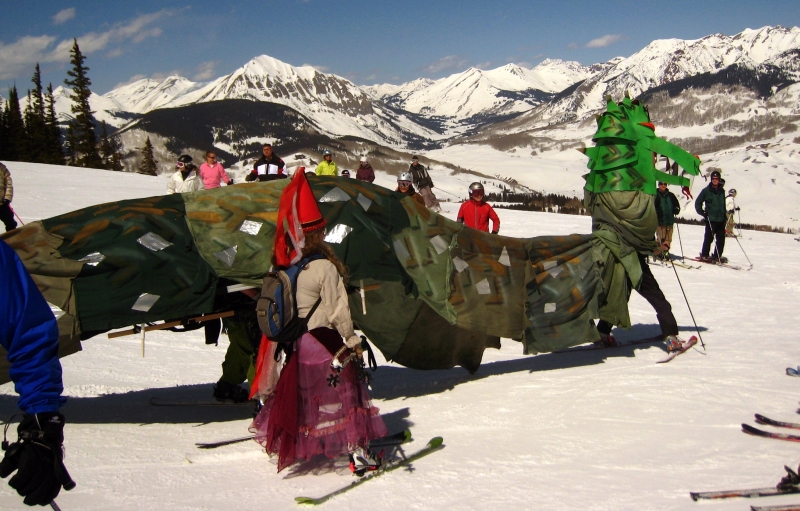 Nice attention to detail on the dragon head. Note the dreadlocked whiskers.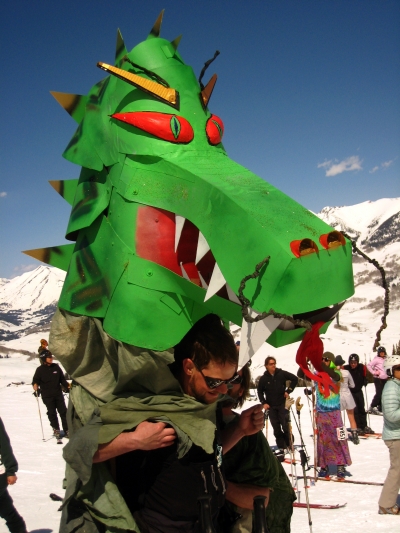 A very pregnant nun, Sister MZ, taking super-secret costume notes.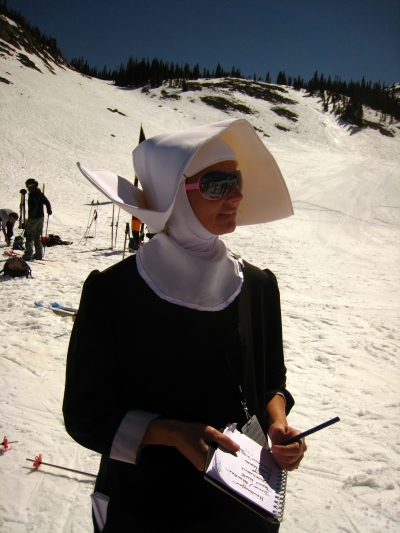 Apparently monsters can free their heels as well as their minds. Look how this giant compares in size to Martin Catmur & Dave Scheefer!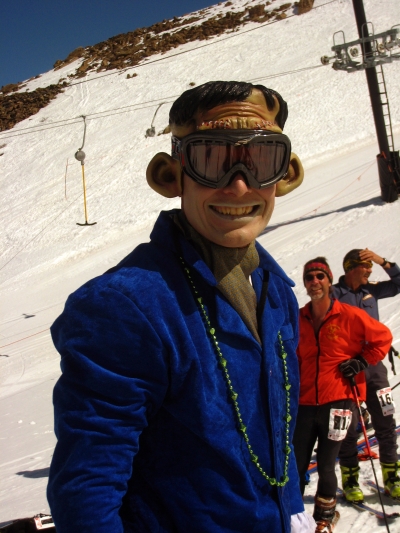 A-Roid, And-roid, or Andrew Kastning, take your pick.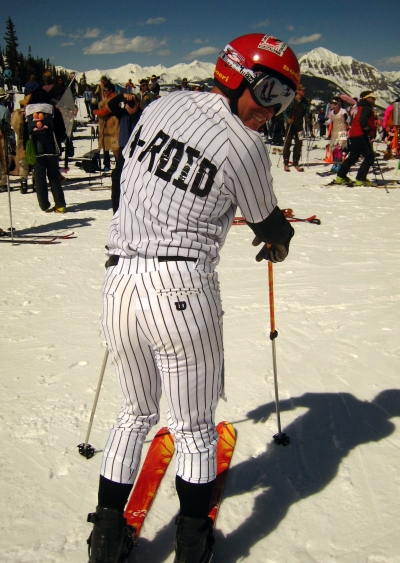 Los Lobos roadies participated in the fun...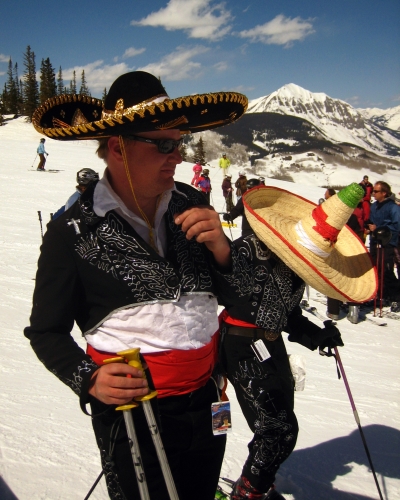 ... while bunnies snacked on chocolate raisins (now we get it!) for power during the race.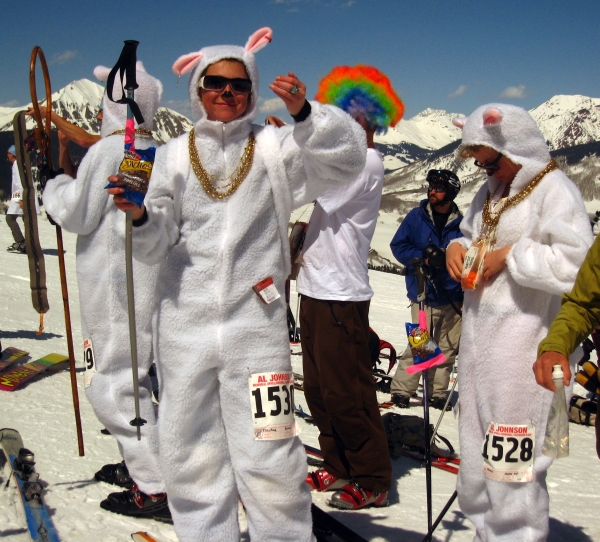 Warm temps brought out cute pink marshmallow costume accessories. And at least one crazy Australian accessory.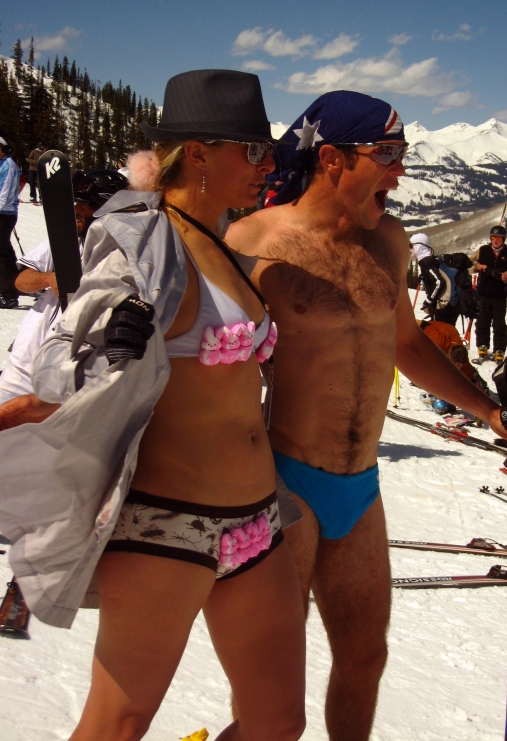 Returning from a nation-wide conference of fast-food mayor mascots, Alan B. sticks with his agenda in a homemade Big Cheese outfit.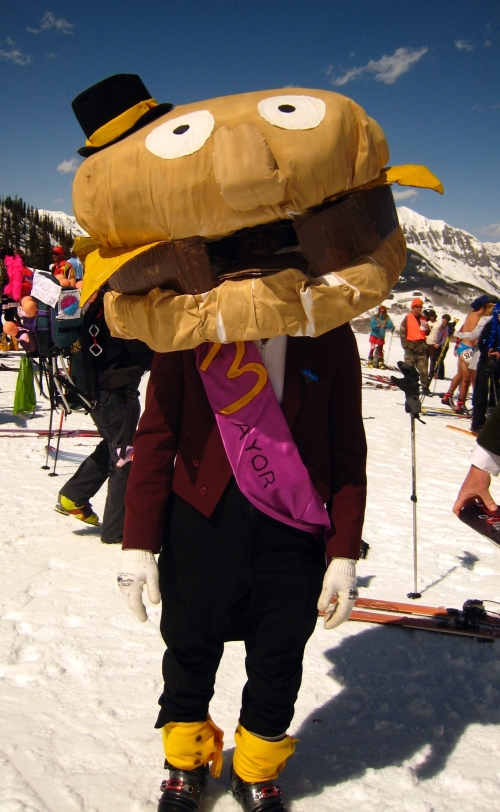 Bikinis and chaps, what a wonderful concept.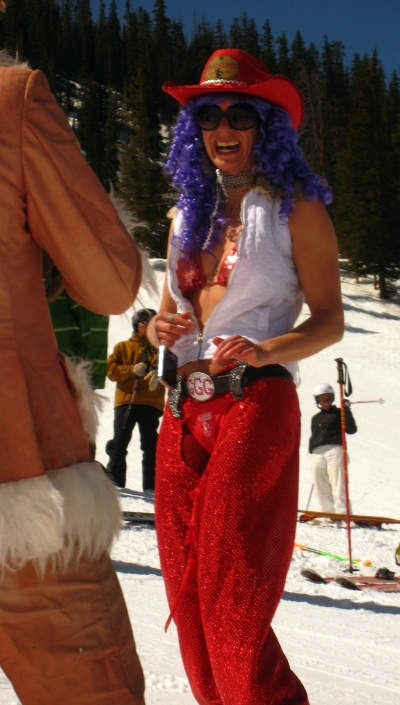 Columbian coffee. Where does Juan Valdez come up with these beauties?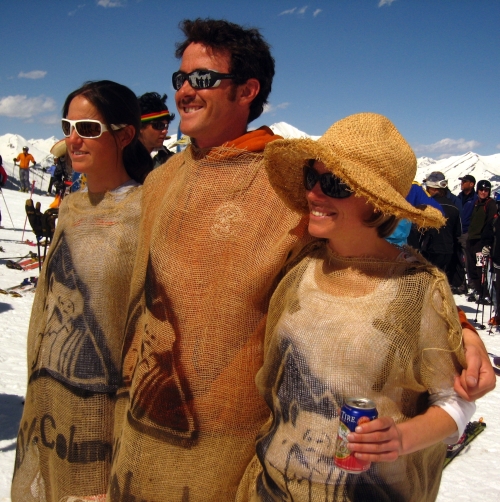 The Kebler Elves are flyingcracker favorites for consistency of design and gently poking fun at our visitors (c'mon, we've all heard people ask for directions to "Keebler" Pass). Well done ladies!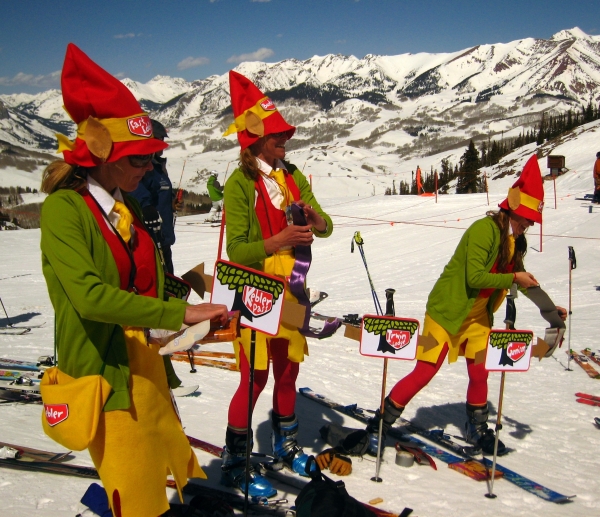 Flower power is all some people need to make it to the top.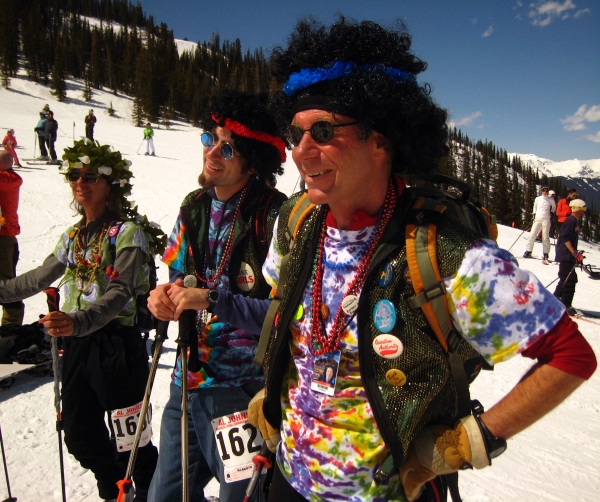 Butterfly had extra help from her wings.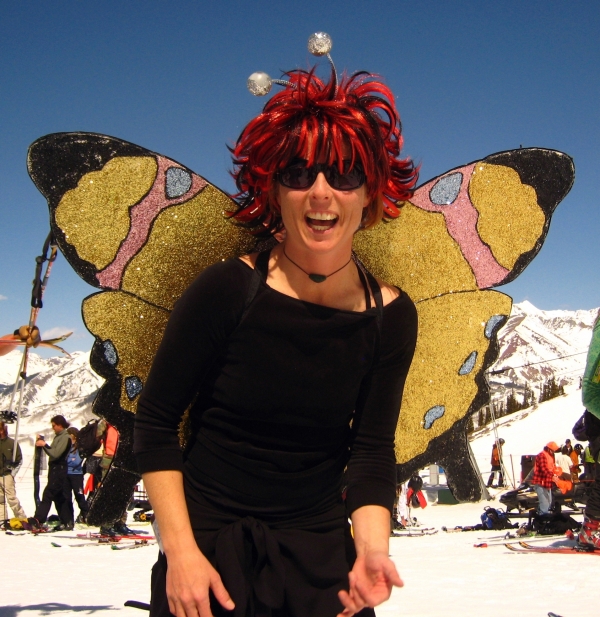 AJ start as seen from the NFL. Apparently a lot of slow starters in this crowd.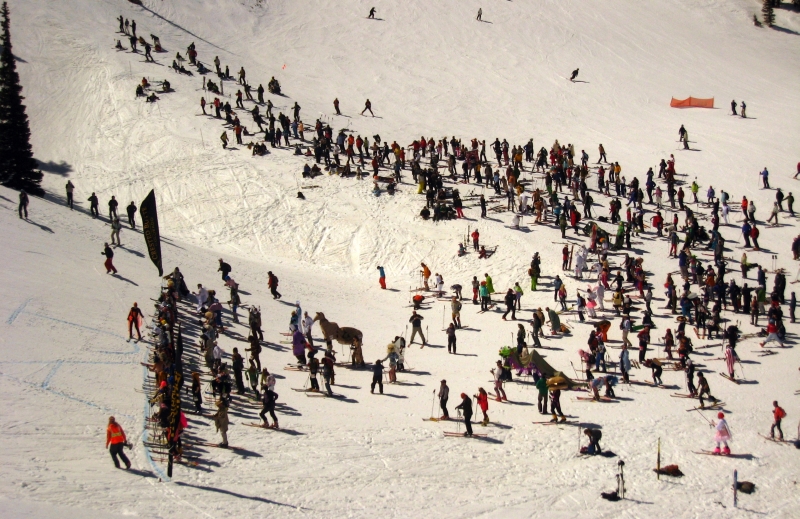 Everyone's favorite KBUTian, Kristen Lawrynk, workin' the rainbow connection!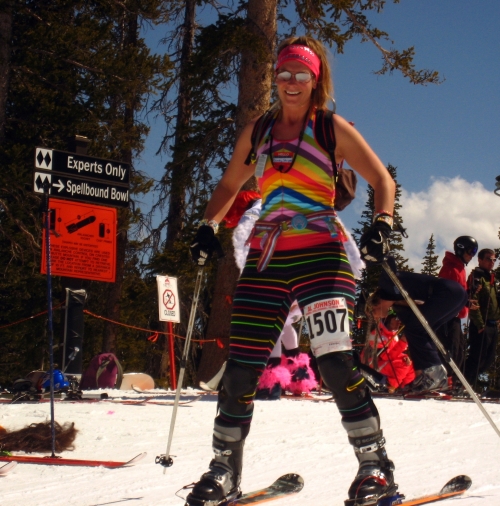 Cowpokes ready for the roundup on the Last Steep.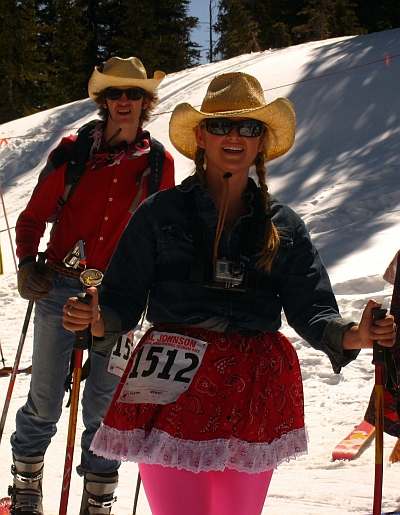 Who says the AJ isn't good clean fun? Laundry basket, washer and dryer clean up the mess.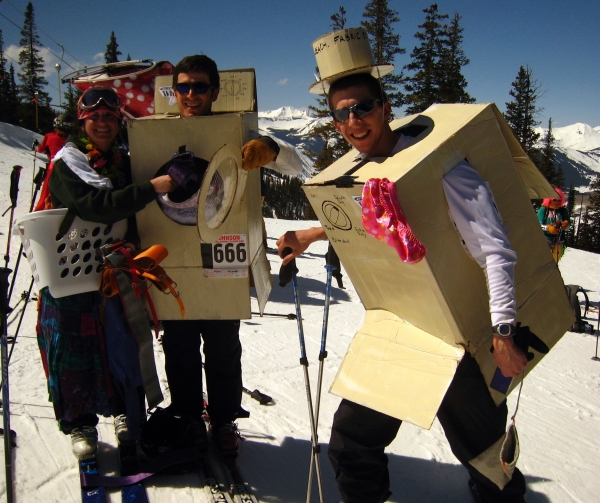 Another butterfly emerged from her cocoon at the top of the NFL.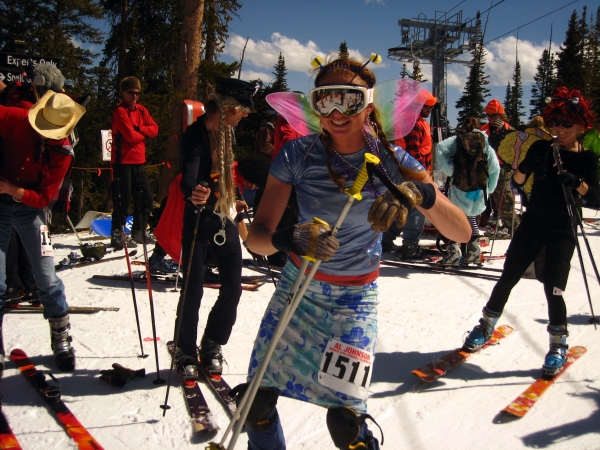 Not many guys can make this look work, but this Aussie lad pulled it off nicely according to our female friends. Unfortunately he must have had a miscommunication about the full extent of the race. Upon reaching the top of the climb, ahead of all contenders, this bloke raised his arms and let out what sounded like an Aboriginal yell - apparently thinking he had won the race. In an attempt to help we informed him, "Hey dude, you aren't done yet!" Upon hearing his reply, "Where do I go now?" we knew his race was all downhill from that point on. He finished with an assortment of new slope-rash skin coloring. Note for next year: Nordic skate gear may work at Mt. Hotham or Perisher Blue but it's not recommended for double black-diamond extreme terrain at Crested Butte. Nevertheless, good on ya mate!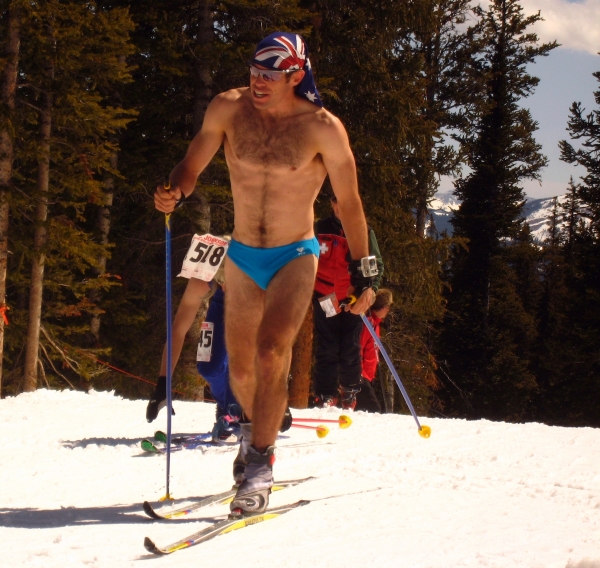 Sully appears to have perfected his locker room towel (or ski skin) snap, hoping to shake the confidence of eventual winner Travis Scheefer.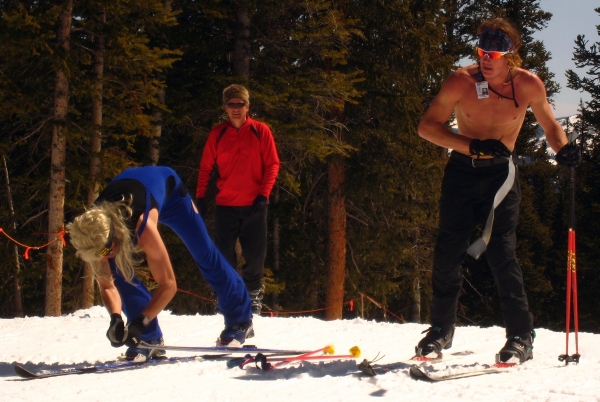 Dodo birds made a rare comeback but their balance looks a bit shaky pudding!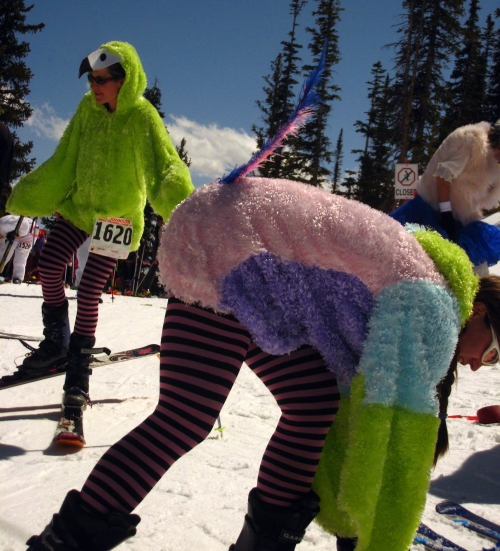 Was Sunday the last day of the season? Rarely do skiers atop Avery get a treat like this.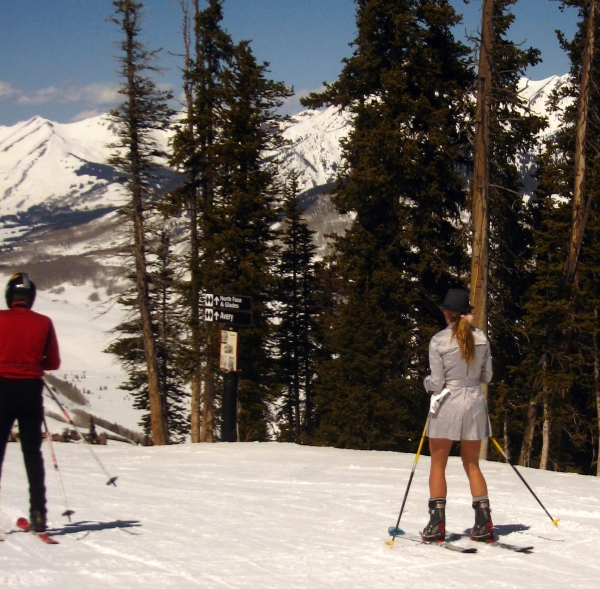 "Hmmm, I wonder if the snow on Hard Slab has softened yet?"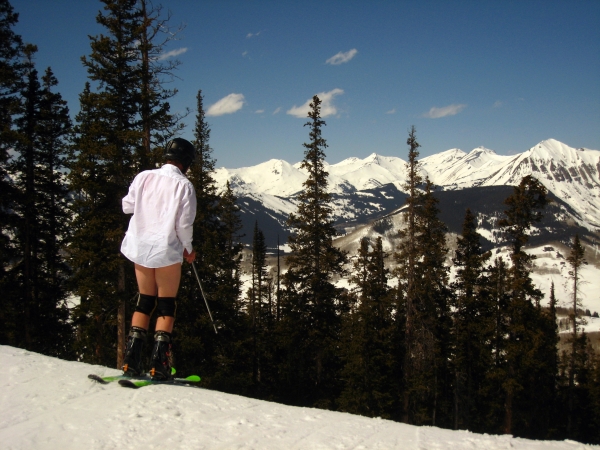 Snorkeler getting ready for the liquid delight below.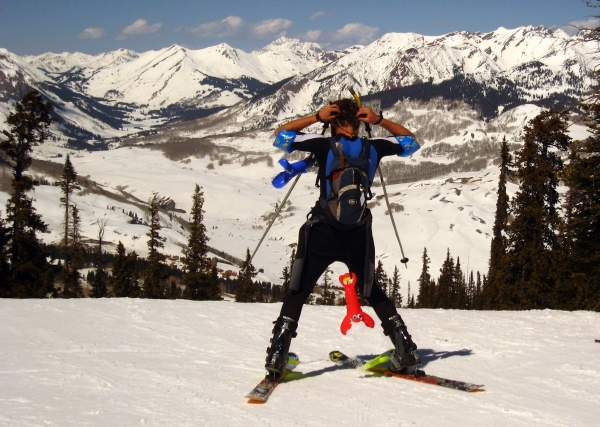 A new catchphrase: "We're glad you're here (wearing chaps)." Two chapmisstresses tackle the downhill.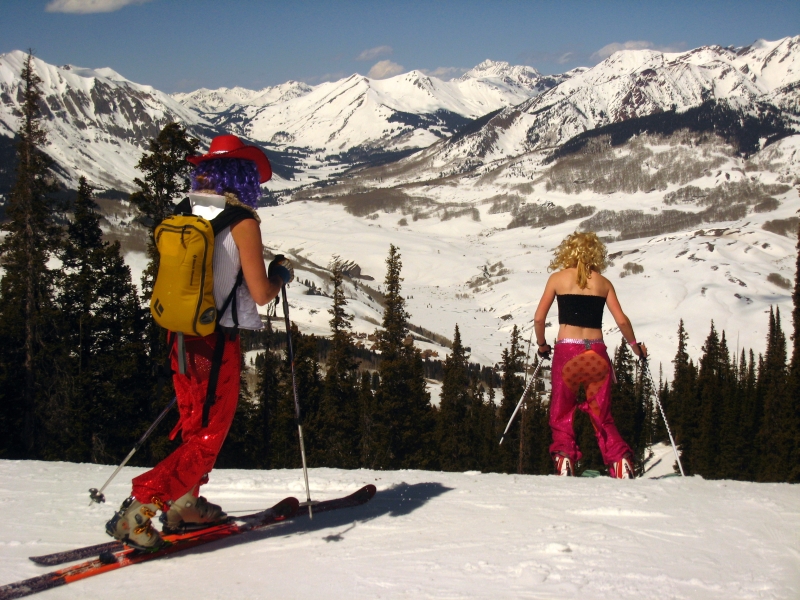 Like a scene torn from The Adventures of Alice in Wonderland, various players follow either a fairy or a rabbit down a very steep slope.
Hunters and skeletons cautiously peer over the edge... the end is nowhere in sight.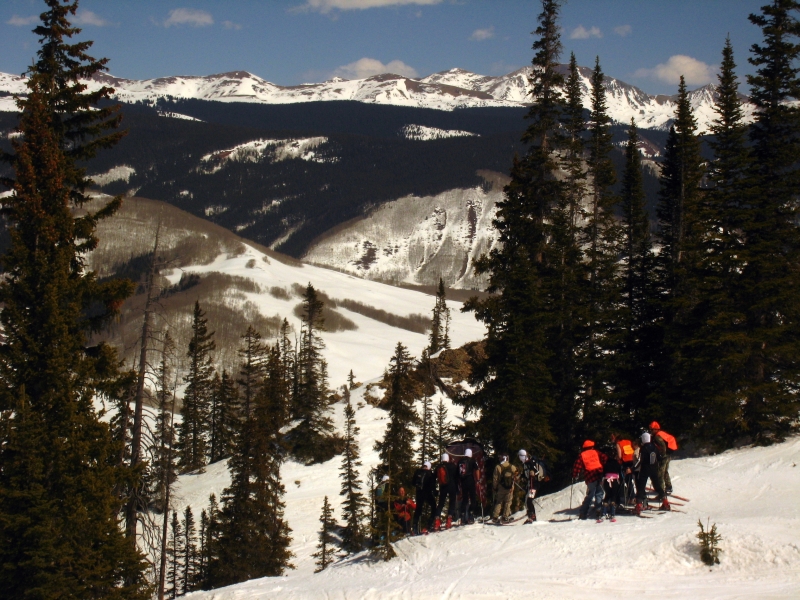 This couple had fun flossing each other during the race.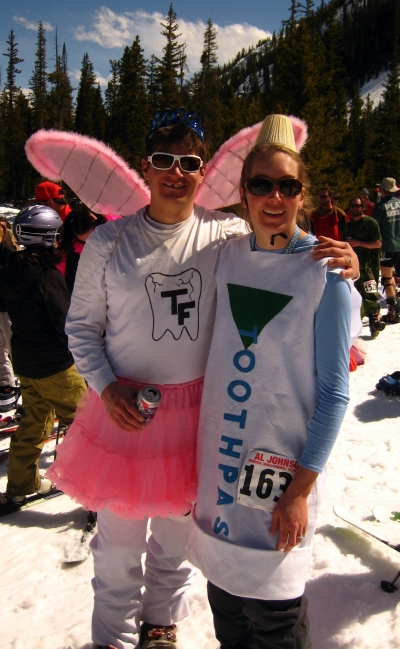 Dana Bradley, Crested Butte's Red Lady for 2009, enjoying post-race festivities. Congratulations Dana!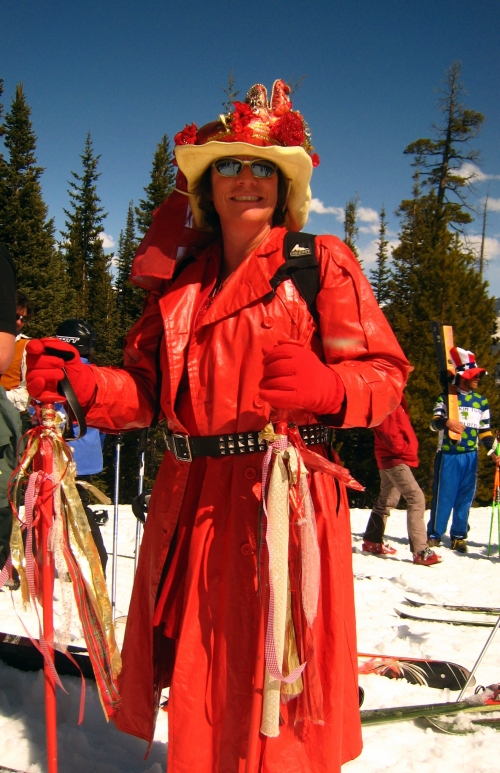 Karate Kid vs Zombies. The winner? All of us!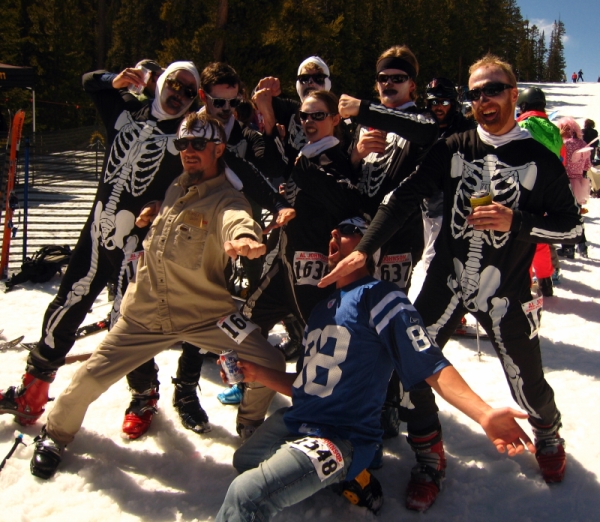 Ben-Jammin' and the Swifters Rockstar Band, rocking with the jet-set at the crazy post-race party.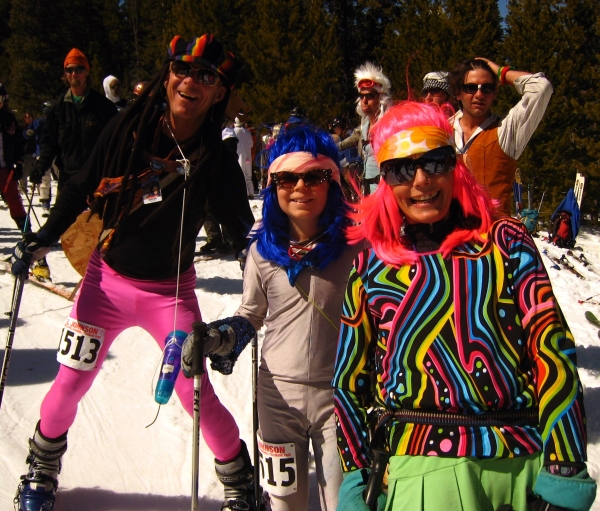 One of the biggest costumes in the race, this horse had to be a tough ride down the Last Steep.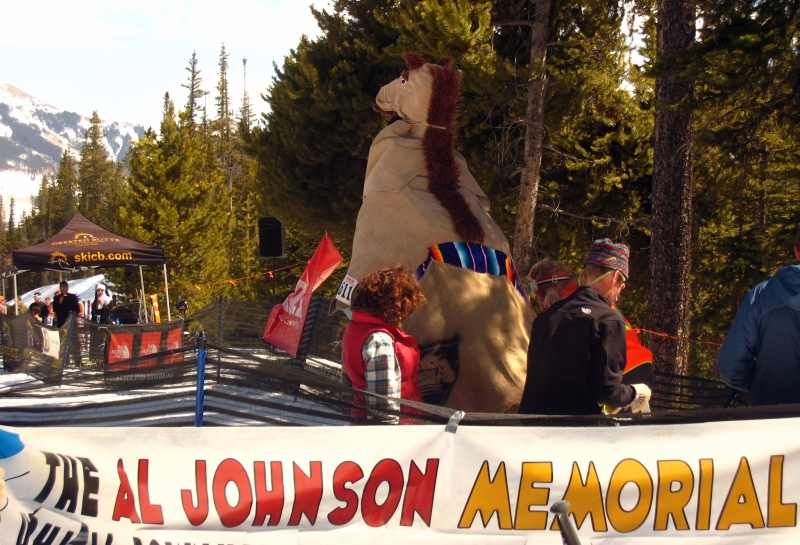 Congratulations Travis and Rebecca, and thanks to CBMR and the AJ organizers for another fine spectacle. See you next year!